You are here
International Women's Day: Tribute to Daphne Oram, Mother of Modern Electronic Music
In honor of International Women's Day, we're shedding a little shine on the most influential female figures in the industry who helped pioneer electronic music culture.
Born in 1925, Daphne Oram changed the sound of music forever.
Daphne Oram was the first woman to do many things. She was the first woman to build an electronic musical instrument. She was also the first woman to set up a personal electronic music studio (at a time when that was a very, very difficult proposition for various reasons) and the first woman to run an electronic music studio.
In addition to creating the eponymous technique Oramics, she was first in many other things as well. She was one of the first British composers of electronic music and an early proponent of musique concrète (a revolutionary sampling technique developed by French composer Pierre Schaeffer at Studio d'Essai. Using the advanced tape recording technology of the time, composers recorded , manipulated and arranged various natural sounds on tape to produce a montage of sounds). Some even call her the true creator of techno.
"EVERY NUANCE, EVERY SUBTLETY OF PHRASING, EVERY GRADATION OF TONE OR INFLECTION OF TONE MUST BE POSSIBLE ONLY BY A CHANGE IN WRITTEN FORM."

Daphe Oram
What did she do?
Without Daphne Oram there would be no Kraftwerk, Depeche Mode, Björk, New Order, Madonna. No techno, trance, house, drum and bass, disco or just about any modern music. Because Daphne Oram is the legend who, in the 1940s, practically invented electronic music.
This unexpected pioneer of electro was born in Wiltshire in 1925. Highly intelligent, Oram took piano, organ and musical composition lessons from an early age and studied electronics. In 1942, she turned down a place at the Royal College of Music to join the BBC as a junior studio engineer – a job available only to women because it was wartime and men were fighting. She was soon promoted to studio manager.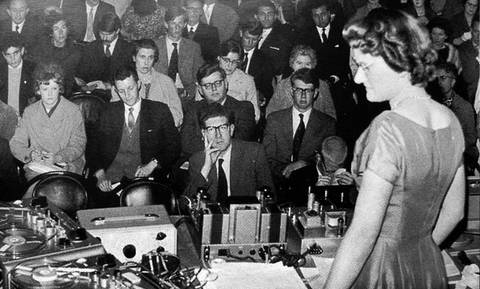 In the early 1950s, the tape recorder came into widespread use, and Oram stayed late at work, secretly experimenting with the equipment. She recorded all sorts of sounds and began splicing and winding the tape, layering it, playing it slow and fast, back and forth. She saw enormous possibilities, but the BBC establishment was slow to understand. 
Finally, in 1958, after much campaigning, the BBC gave Oram and his colleague Desmond Briscoe a spare room and some old equipment. The Radiophonic Workshop was born.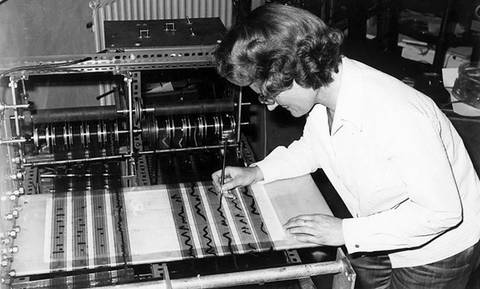 "HIS DREAM WAS TO CREATE A MACHINE WITH WHICH THE COMPOSER COULD 'CONVERT GRAPHIC INFORMATION INTO SOUND'".

Hugh Davies
Renowned for her talent during World War II, Oram shunned a spot at the prestigious Royal College to be an engineer for the BBC. There, with access to all sorts of equipment, the young woman began cutting and splicing the tape and manipulating it in countless directions.
Soon after, Oram was asked to provide electronic sound effects for various BBC programmes. In 1957, things improved when she was hired to compose music for the BBC television drama Amphitryon 38. Employing tape recorders, a sine wave oscillator and some self-designed filters, she created the first synthetic sheet music in BBC history.
That same year, Oram partnered with fellow BBC Desmond Briscoe. Desmond was also a pioneering sound engineer who brought electronic music to radio and television. The two composed electronic music for the most significant BBC productions of the time. His innovative sounds caught the public's attention and highlighted the potential of electronic sound effects on radio and television.
In the following decades, she would develop new techniques and hardware. She did extremely experimental work, like  Still Point,  and developed her own equipment to generate and manipulate synthesized sounds: filters, oscillators, sine wave generators, all that jazz. All of this culminated in Oramics ("the study of sound and its relationship to life", as she described it) or "drawn sound", in which machines drew on 35mm film, modulating the sound. Here's what it really looks like:
Why was she a pioneer?
Not only was Oram one of the first to experiment with electronic sounds, he also challenged the BBC men's club and the electronics industry to do so.
At one point, the BBC told Oram to take six months off work, as they were concerned about the effects of radio sound waves on the female body. In response, Oram left and set up his own studio in Kent, where he built the innovative Oramics machine, a sound synthesizer that turned images into sound. The composer drew on strips of film to create electrical charges that control the amplitude, timbre, frequency and duration of the sound.
Throughout the 1980s, Oram spent time lecturing on electronic music and studio techniques. She also wrote several books.
In the 1990s, Oram continued to produce soundtracks and incidental music and started Out and Round About with Music (Oram), playing outdoor music for seniors with mobility issues. She suffered several debilitating strokes and had to move to a nursing home.
Sadly, Oram left us in 2003 at age 77 in relative anonymity and to this day, most of his music remains unavailable.
Composer Hugh Davies, who worked in Oram's studio while he was still a student, wrote in his obituary: "His dream was to create a machine with which the composer could 'convert graphic information into sound'."
What influences did she leave us?
Without Oram's experiments, 99% of the music you hear today would not exist. His tape manipulation techniques influenced musicians around the world and his Oramics machine laid the foundation for modern electronic music production techniques. In 2011, Apple released an Oramics app, to bring the sound of the Oramics machine back to life.
Last year saw the opening of the Oram Awards – launched by the New BBC Radiophonic Workshop and the PRS Foundation to celebrate emerging artists in music, sound and related technologies – in honor of Daphne Oram.
The Wire  states that "post-war songwriters like Oram. embraced the liberating technologies of analog synthesis and computer composition as a means of bypassing the male-dominated world of new music.
And to some extent they did, even if their influence is sometimes lost and relegated to more academic circles. But you don't have to be an academic to appreciate Oram. Just listen below.
Oram's vision allowed her to see the future impact of her work, knowing that she was laying a foundation that could be built on as technology advanced. Indeed, Oram saw electronic music as a field in which women could thrive and was excited by the prospect of her job planting seeds that would blossom over time:
"MY ADVICE TO WOMEN SONGWRITERS – START NOW, BUT BE PATIENT. GIVE IT PLENTY OF TIME TO DEVELOP. REMEMBER THE PIANO – INVENTED JUST BEFORE 1700, BUT WHAT ARE CONSIDERED TO BE THE FIRST REAL PIANO COMPOSITIONS (THE CLEMENTI SONATAS) DID NOT APPEAR UNTIL SOME 75 YEARS LATER. MOZART ADOPTED IT AROUND 1777. BEETHOVEN SHOWED WHAT COULD REALLY BE DONE, TRULY PIANISTICALLY, MORE THAN 100 YEARS AFTER ITS INVENTION. MANY MUSICIANS FEEL THAT THERE IS SOMETHING "MISSING" IN THEIR COMPUTER SOUND. IN MY OPINION, THEY'RE RIGHT – WE'RE WELL AWARE OF THAT – WE HAVEN'T HAD ENOUGH TIME TO WORK ON IT (THE 75 YEARS MENTIONED ABOVE!), NOR ENOUGH SUBTLE HARDWARE FOR THE JOB. BUT THE HOME COMPUTER TODAY IS A VERY SOPHISTICATED MACHINE, IMPROVING EVERY YEAR. HOW EXCITING IT IS FOR WOMEN TO BE PRESENT IN HER BIRTH PANGS, READY TO HELP HER EVOLVE TO MATURITY IN THE WORLD OF THE ARTS. EVOLVE INTO A TRUE AND PRACTICAL INSTRUMENT FOR CONVEYING WOMEN'S INTIMATE THOUGHTS, JUST AS ROMANCE DID NEARLY TWO CENTURIES AGO."

Daphne Oram
Oram's archive currently resides at Goldsmiths University in London, where it can be viewed and accessed by the public and is used for ongoing research. A compilation of Oram's music was released in 2007, and in 2016 a new edition of his book, 'An Individual Note of Music, Sound and Electronics' ,originally published in 1972, was released. Oram has been featured in radio and television documentaries, and in 2017 a play about her life and work premiered, live with electronic music, titled 'Daphne Oram's Wonderful World of Sound'. 2017 also saw the inauguration of the Oram Awards, launched by the PRS Foundation (Performing Right Society) and the New BBC Radiophonic Workshop to celebrate "emerging artists in the fields of music, sound and related technologies in honor of Daphne Oram, and other pioneering women in music". and in the sound".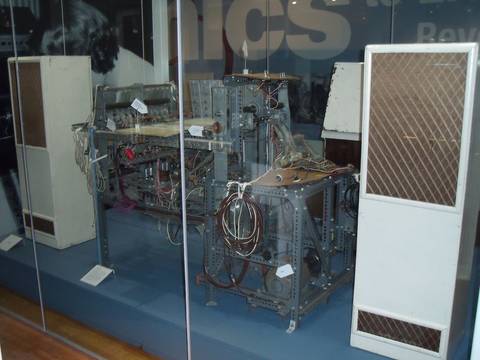 The Oramics machine on display at London's Science Museum – Photo credit: blogs.canterbury.ac.uk
Oram – and all women in this wave of vast mechanical exploration and experimentation – deserve more books, documentaries, and general reappraisal. They are more relevant now than ever before. They tell us a lot about the last 100 years of music, but they also feel a lot about the moment and still, somehow, the future.
[With information from Stylist UK, Icon Collective]