You are here
Thay Rodrigues launches a project to promote Detroit and worldwide new talents
In partnership with DJane Mag, Reloaded Records and 313.FM radio, Brazilian DJane Thay Rodrigues presents an innovative project for Detroit's electronic music scene and culture, 313 Amplified.
 
DJane and music producer Thay Rodrigues originated 313 Amplified , with the support of DJane Mag magazine, Reloaded Records and North American Detroit radio 313.FM. The project aims to expand electronic music and promote new talent directly from Detroit, in the United States. The initiative targets DJanes and producers from anywhere in the world, but does not exclude any genre and is there to support everyone who wants to participate. So, artists, stay tuned and be part of this story: 313 Amplified is now receiving videos and audio recordings from artist at contact@313amplified.com.
To ensure this international spotlight, interested parties must send a link with a short video, from 30-60 minutes, playing their favorite electronic music styles and/or productions. The 313 Amplified team will then select some videos to be released in the next edition of the project, which will take place on a monthly basis. In addition to this, the Brazilian label Reloaded Records, sub-label of Blue Dream Music Group LLC based in Miami, Florida, will choose some original productions to integrate the label's future releases. More information and the full regulation can be found on Instagram @313amplified or on DJane's Instagram @djthayrodrigues.
When a Partnership is good, it extends and multiplies. 313.FM joined forces again with Thay Rodrigues in celebration of Women's Month, to promoted a showcase in honor of women last Wednesday, March 16th.
 
How was 313 Amplified born?
"I found it very difficult when I was in Brazil trying to be recognized as an artist. That's why today I want to help mainly women to expand their music careers and to be seen locally and internationally", explains Thay Rodrigues, who heads the project.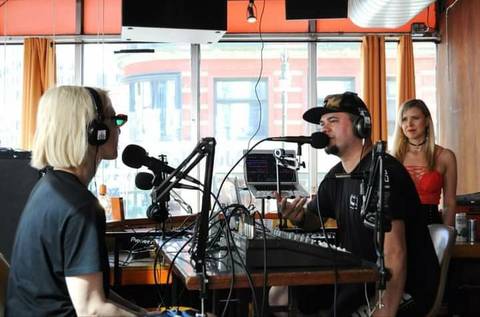 313.FM radio is dedicated to introducing listeners, the talent from Detroit, elsewhere in the United States and around the world. "313 Amplified will be very valuable to the Planet Funk program and the 313.FM station as a whole. One thing I've always been very proud of about the show is that it has always included all genders, sexual orientations, races, etc. I also think it's important to showcase talent from around the world, as our goal has always been to make room for emerging artists," says Brent Scudder, founder of 313.FM, a radio station that broadcasts in Detroit.
"As soon as I got to know the station, through a friend, DJ Bejag, I was delighted with the concept they have of making room for everyone in the scene. When I moved to Detroit, I was invited by the radio to talk about the release of my single "With Me", with DJ Jesus Luz. I took the opportunity to share my idea with Brent, and so we started to envision the 313 Amplified ," says Thay.
"I have followed the work of the label Reloaded Records since its inception, which is managed by the talented DJ, Music Producer and Entrepreneur Carol Vitti AKA Access Code. I already knew the career of Carol Vitti, who was born in the state of Pernambuco, just like me. From the moment I heard about the label, I also loved the concept. Reloaded came up with the idea of inserting more women into the electronic music scene. It is a record label created by a woman for other women, without excluding any gender, but always extolling the difficulty and unworthiness that many women suffer from being labeled as having a ghost producer behind them. The values of Reloaded, DJane Mag and 313.FM are fully compatible and perfectly match the mission of 313 Amplified, which is to expand opportunities for new DJs and music producers around the world and strengthen the community of support to such artists.", emphasizes Thay.
 
A partnership created by the love of music
Thay Rodrigues invited DJane Marina to participate with her in the first edition of the project. "She was one of the first DJs I met when I came to live and work in Detroit. In addition to being very talented, we share a very similar line of thinking and Marina actively participated in several decisions I made so that the project would become real", says Thay.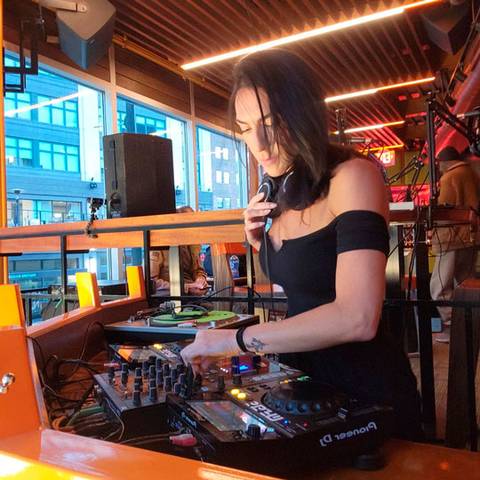 "I usually bring a house/tech house sound, and Thay has a lot of melodic techno influences. It is difficult, and it is often not possible to define the styles of us both, but it is undeniable that they complement each other. Thay also has more experience with music production and is helping me to learn and evolve in this aspect", highlights Marina.
Brazilian heat in Detroit
After spending a year in Houston, Texas, Thay decided to move to Michigan. "I noticed the warmth of the electronic scene and I felt very welcomed for who I am, and for my music, regardless of origin or type of sound. Before the move, I was a resident DJ at Club Bauhaus Houston, sharing the stage with many amazing DJs from around the world, and I started to gain visibility by traveling to other states such as California, Michigan, Colorado, among others. So, after being invited to play in Detroit for the first time in August 2021, I fell in love with the energy of the people and decided that it was time to explore this 'Brazilian' warmth that I found in the American city", comments Thay.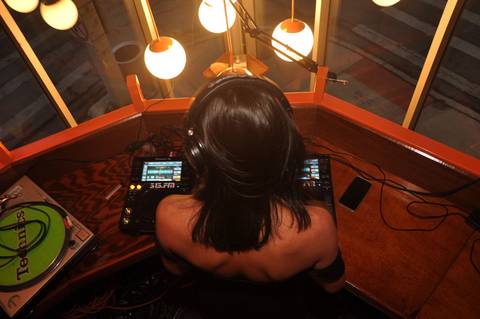 Marina and Thay explain what is most special about Detroit: "Detroit is a very renowned city in terms of electronic music. To have an opportunity and a reception of this scene here is something special. The scene is full of talented people and local Dj's who are always on the lookout and willing to make room for new 'faces'. We noticed that in Brazil there is a bigger barrier for local DJs who are starting their careers, while Detroit opens the doors of clubs and is characterized by having a wide variety of artists and styles. For us, the importance of this project is precisely to leverage the number of DJanes who still do not have the opportunity to show their musical ability", they reinforce